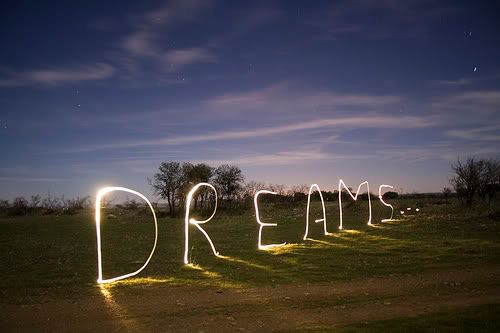 Well I don't know if everyone might feel the same way about dreams as I do, but I believe sometimes that in our dream state that our subconcious tries to tell us stuff from time to time.
One time about 3-5 years ago, I had one of these dreams that still makes me wonder to this day, if something / someone was trying to tell me something or not. At the time I just finished vocational school, and I was unemployed about 4 months in a row trying to find a job, and me and my Fiance at the time were stuggling to survive.
I was dreaming at the time that Me, her and my parents were driving to the river in our local time to go on a boat ride, and I was really excited, but this gravel road was long and narrow, and along the way I was seeing some that made me go WTF..!! OMgZ...!!!!!11!!1! Well there were people all over the place, standing around fire barrels and such, and they were people from lawyer looking people talking on cell phones, to poor homeless people trying to stay warm and by these people on this road were white painted door frames, with closed doors and when we were driving by one person quickly ran in the door and there was this pure goldish/white light
Then I woke up and I felt like there wasn't any issues, like I was on top of the world and just had this feeling of pride or satisfaction. I was wondering if subconciously I was telling myself that there were many paths in life and that you just have to pick were you go, then suddenly like a week later I got a job, yeah it wasn't the type of job that I wanted and still work there, but there is some sort of satisfaction knowing that this place is stable as long as you atleast try.